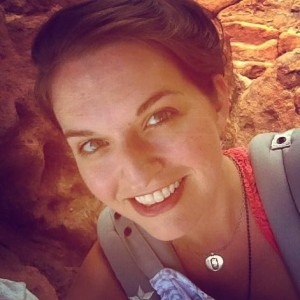 Jen Bernard, RYT 200, RPYT found a yoga video in 2000 that made her laugh at herself more than she ever had before. That video (starring Karen Voight) inspired a journey of a lifetime which still involves lots of laughter, tears, and stirrings of the heart. So like many practitioners, Jen found asana first on a $10 exercise mat from
Wal-mart and was hooked!
Jen found the deeper study of yoga at a time in her life when she felt utterly and painfully lost. Her firstborn son, Wil, was born with a life threatening spinal defect. Jen and her husband, Brandon, were devastated by his diagnosis but also grew in awe of life's miracles as he achieved so much more in his life than they could ever have dreamed.  Her son has been her greatest teacher and will always and in all ways inspire her teaching. Yoga and the mindful practice of self study helped her to find her breath when she'd felt like the world had dropped away from beneath her feet. And she knew that would not be the only time life would challenge her in that way. Jen and Brandon have been partners for longer now than they have been apart, more than two decades, and that relationship is another teacher in grace and mercy, sacrifice and strength. Marriage and children are not always easy, and he is undoubtedly the partner she's always so honored and thankful to be sharing the winding path alongside.
Jen completed her first teacher training in November of 2008 and began teaching to her friends first in a tiny office where she worked as an administrative assistant and slowly began to grow a donation practice in the mountains. Soon after her first training, which left her wanting to learn more about prenatal yoga, she found a friend and mentor in Marie-Louise See, Colorado Springs' Grand Dame of all things motherly and the premiere home for prenatal yoga.  She has taught prenatal and postnatal yoga under the guidance of her dear friend and mentor ever since and completed a prenatal yoga training in 2011 in Denver.
Jen loves to sing and will often break into song during class, and sorry…not sorry! It's just her thing. She also loves reading, hiking, and spending vast amounts of time with her family which has now grown with the addition of their newest little treasure, Lou, who was born two days after she graduated from the RootEd Apprenticeship and Teacher Training Program in May of 2014.  She's among a rare set who've had the gift of growing life within during the most profound and awakening experience of satsang and self-discovery at the feet of the lovely, divine and wise Jessica Patterson.
Always appreciating the unique way in which yoga helps us to see the same light within all beings, Jen has found her voice in class to be that siren song calling each of us home to ourselves, and essentially to each other, as well.  She is honored and so very grateful to share the love of life and breath with you.
Studio Calendar